Evolving Logistics Scenario - How is the Road Ahead?
Logistics – Backbone of Economy
The Logistics industry plays an important role in the change and improvement of economic indicators of the country. It provides significant macro contributions to national economy by creating employment, and creating national income and foreign investment influx. Today, all industries are dependent on this sector and it is regarded as the backbone of the economy, providing efficient and cost effective flow of goods on which other commercial sectors depend.
Growth of Logistics Industry in India
Years of high growth in the Indian economy has resulted in a significant rise in the volume of freight traffic moved. This has opened up new growth opportunities in all departments of logistics including transportation, warehousing, freight forwarding, express cargo delivery, container services, shipping services etc. According to the World Bank's Logistic Performance Index (LPI), India secures 39th place among 150 countries of the world. On analyzing the levy of the most talked about comprehensive tax i.e. the impact of GST on the industry, it is said to be beneficial in the longer run.
"With the implementation of GST, the Indian logistics market is expected to reach about USD 215 billion in 2020, growing at a CAGR of 10.5 per cent," Economic Survey 2017-18 tabled in Parliament said. The Ministry of Road Transport and Highways is planning to develop Multimodal Logistics Parks under its Logistics Efficiency Enhancement Program (LEEP) in 15 locations all over India at a cost of Rs. 33,000 crore to fast pace the growth of Logistics industry in India.
Modes of Transport & the cost involved
Rail and road mode of logistics is for the domestic trade. Road is the dominant mode of transport which accounts for 68% of freight movement in India. Trucks are the most widely used mode of transportation in India. At present, around 1.5 million trucks operate on the Indian roads and the number of trucks increases around 10% a year. Railways are considered a relatively cheaper mode of transport and are used mainly for transporting bulk materials over long distances. About 89% of its freight traffic is contributed by major commodities such as coal, fertilizers, cement, petroleum products, food grain, finished steel, iron ore and raw material to steel plants. The balance 11% is other commodities moving in bulk and containers. Air and water mode of logistics is mainly for foreign trade, and Ninety percent of foreign trade happens through water in India.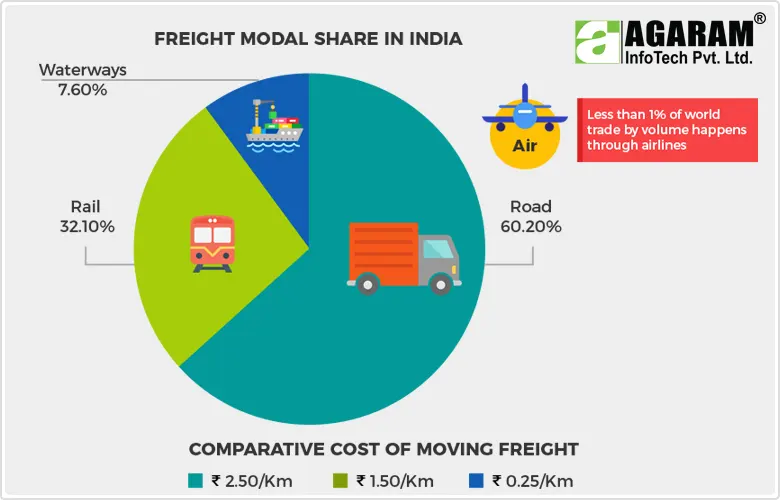 Logistics development in Tamil Nadu
Moving our focus on the logistics industry in Tamil Nadu we find that the state has a good road-rail network. The airways mode of transportation is supported by international airports and many domestic ones; major seaports at Chennai, Ennore, Thoothukudi and Nagapattinam and 11 other ports handle huge freight traffic. The National Highways Authority of India has planned to develop a Multimodal Logistics Park in the Ponneri Industrial Node area near Kamarajar Port in Tamil Nadu. This is an important agreement for the development of an integrated, multi-modal transport infrastructure in the state. The proposed logistics parks will bring down the overall freight cost, reduce vehicular pollution and congestion and will enable reduction of warehousing costs. This will ultimately result in lower logistics costs. There are many cities in the state that are major players in the transportation industry; focusing on Logistics Industry in Tamil Nadu we have:
Multi-modal transport hub – Chennai
Under Logistics Efficiency Enhancement Program (LEEP) the Ministry of Road Transport and Highways has planned Rs. 1295 crores investment for the Chennai Region. Dedicated freight corridor, public private partnership (PPP), and 100 per cent income-tax exemption for port development projects have improved multi-modal transportation in Chennai. It has clearly emerged into a major logistics hub, and has been attracting huge investments. The city is well-connected by land, sea, and air and serves as a major hub for entry into South India. Oragadam, being close to Chennai, is one of the fastest growing industrial towns. It is connected with major western and northern cities through major national highways roads. It has easy access to the major sea port (Chennai port), railway station (Chennai Central) and an International airport within 25 km.
Rail Auto Hub – Walajabad
India's first Rail Auto Hub is located at Walajabad in Kancheepuram district near Chennai. The auto rail hub has good road connectivity to the major automobile factories like Hyundai, Nissan, Ford, Royal Enfield and Daimler. The hub caters to the over one million units of cars being produced per annum in these areas. This also acts as an ideal distribution center for the inward traffic from OEMs such as Tata, Mahindra and Honda which are located elsewhere.
The Transport City – Namakkal
Transport is the major field of work in Namakkal. A large number of bulk carriers and lorries run through all over India from Namakkal. Lorry transport not only entails lower overhead expenditure but also lower maintenance expenditure. Namakkal finds a place of importance in the map of India because of its Lorry body building industry, and therefore it is called as "Transport City". Namakkal Transport Carriers have earned an excellent reputation in moving a variety of ODC (Over Dimensional Cargo) goods and are today the largest movers of such consignments in the region. Namakkal is also the main centre for linking other districts via bus routes.
Pearl City Port
This port is the center for maritime trade and brings the second largest revenue to India. Currently, the port handles container vessels up to 3,000 TEUs capacity. Tuticorin is the only port in South India to provide a direct weekly container service to the United States and regular weekly direct services to Europe China and Red Sea Ports. The Major Imports include Coal, Cement, fertilizers, raw fertilizer materials, rock phosphate, petroleum products, petroleum coke, and edible oils and Major Exports include General cargo, building materials, liquid cargoes, sugar, granite, and limonite ore.
Ennore Port
Renamed as Kamarajar Port Limited, This is the 12th major port of India and is a full-fledged port with the capacity to handle a wide range of products. The port has effectively taken over all the ore movement from the Chennai Port and has the capacity to handle over 80 million tons of cargo and its coal-handling capacity is expected to be about 43 million tons. The port has adequate road and rail links.
How is the Road Ahead?
The evolving industrial scenario in Tamil Nadu clearly indicates that there is a huge growth potential here, however the question that arises is "Is the Logistics Industry adept enough to support this growth?". Let us look at some of the prominent challenges in this sector and their probable solutions.
| Current Scenario | Probable / Implemented Solutions |
| --- | --- |
| Indian trucking industry is highly fragmented, unorganized and lack communication. | The fragmented trucking industry in the country has to be shoved with logistics management application and mobile apps to make the management platform simpler and easier for your drivers, your clients and for internal management. Features such as GPS / GPRS tracking, Multilingual features in driver app (include local language), Truck maintenance alerts (engine, brakes, parts health check), etc would handle the major loopholes in management. |
| Long queues of goods-laden trucks waiting outside state boundaries often led to delays in delivering the cargo. | The introduction of e-way bill has made toll booths unnecessary. Cutting this delay short can help the economy save around Rs. 2,300 crore which used to be lost due to goods trucks waiting at state borders with their cargo. Implementation of e-way bill enabled logistics software would ensure efficient operation. |
| The performances of Indian Ports have been generally deteriorating over the past few years. The cargo evacuation facilities are under great strain. | Ports should provide emphasis on improving superstructure by expansions of associated backup container stack areas, transfer bays, rail transfer facilities for seamless rail evacuation, gate terminals for proper road evacuations. Smaller new ports should be constructed at regular intervals along the coast. |
| Air freight volumes will continue to rise in 2018 fueled by trade agreements and expansion of industrial activities, putting further upward pressure on rates and requirement of improved infrastructure. | Dedicated terminals or private bonded facilities for air cargo should be set up at all metropolitan airports. New air ports that are dedicated only to cargo flights are viable options. |
To achieve a significant improvement in productivity and efficiency, it is absolutely essential that future planning of India's transport network should be aimed at the development of multi-modal transport, both within the country and for export-import trade.