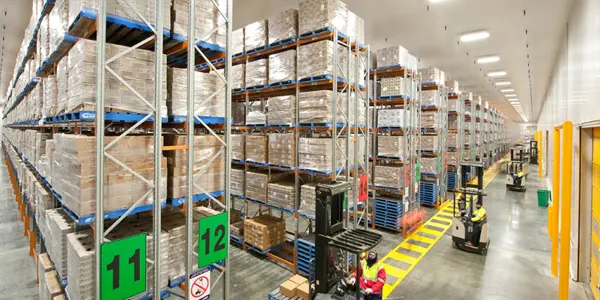 AgES Warehouse Management Software will allow you to optimize your processes to suit your specific business requirements and also the different types of materials you handle. The pick/pack/put away combinations in most warehouses are endless, and a good WMS will help you to make the best use of your available resources without wasting effort. AgES warehouse Management software an integral part of AgES Logistics Management Software helps to efficiently reduce delivery lead times and order accuracy errors and improves relationships with all parties in your demand and supply chain.
AgES Warehouse Management Software ensures that perishable or soon to expire inventory is picked first, this way it helps to reduce wastage. AgES Warehouse Management also ensures efficient use of space and labor and successfully calculates the optimum location for each item to ensure that the use of space is balanced against the pick and put-a-way effort. The application ensures that the inventory is stored in the proper environment and used optimally, helps to minimize scrap, waste, and obsolescence.
The system provides absolute insight into inventory usage and helps the suppliers to maintain only the bare minimal inventory in hand required for production, bringing in the benefits of the JIT system. This avoids the overhead of holding excess inventory and at the same instance reduces lead times. AgES warehouse management software provides the staff with easy access to real-time inventory data enabling better end-customer support. Workers know exactly where products are shelved and this reduces the time required to locate the item, reducing the risk of staff overexertion and ensures optimal usage of workforce for warehouse management. Our Warehouse Management system can be integrated both with Barcode solution and RFID solution for tracking items.