The need for contract management software becomes inevitable to streamline the lifecycle process of the contract. The professionals like sales executives or account reps, who are especially involved in negotiating, contracting, will have the need to certainly define the terms and services agreements. This is mainly done to ensure the compliance, monitor risk, amend agreements and execute the contract.
The contract management software will help to simplify all process involved, especially that are complex. This, in turn, will help the users to easily create, store, redline, share and manage the business contracts. This software can also be effectively integrated with Quote management software, CRM software, E-signature software, and Accounting software.
What does Agaram Infotech Contract Management Software include?
Our contract management application includes all essential elements that ease the use of the tool. To point a few here follow;
It includes documents that need to be stored in various categories and for each type of contract
It presents an appropriate template, which can also be customized according to the business contraction creation requirements
It enables to easily create, share, edit and collaborate contracts internally and externally with partners and customers
Comply with legal and business requirements and internal business rules involved in the creation of contract
It helps to notify the users in case of any changes required, especially on business rules
It includes approval workflows to enable easy finalization of the contracts
It helps to track and monitor creation of contract and delivery process
It allows users to easily estimate process efficiency and find appropriate ways to improve the same
It helps to efficiently manage the complete contract lifecycle
How our Contract Management Software Benefits your business?
Our contract management software will help to easily create, execute, monitor, administer and review the contract in an efficient way. Right from initial quoting and pricing to the automatic billing and renewal, all processes are made easy.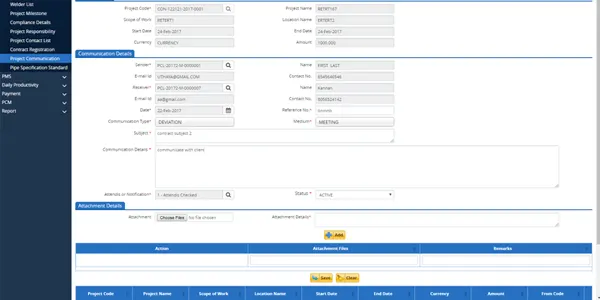 Here follow a few highlighting benefits of our contract management software:
It helps to enforce response time, callbacks, coverage schedules, assignment, escalation rules and more
It helps to modify pricing according to specific adjustments / overrides
It helps to establish invoicing rules for arrears, advance, partial / full billing period
It helps to establish technician scheduling / compensation plans
It helps to improve contract visibility / concession tracking
It helps to change relevant item addition /changes / cancellations
It helps to manage warranty details
It helps to identify potential revenue sources
It helps to create contracts to meet both market and customer requirements
It helps to manage contract line items at asset, customer, product and site levels
Regardless of the complexity and challenges involved, we are ready to develop a perfect contract management software for your business.