The Role of IOT in the future of Manufacturing
The Internet of Things (IoT) is drastically changing business models, with an astonishing positive impact on its processes where automation has made them nearly error-proof and highly result oriented. This IOT revolution has touched every industry and one sector that has been greatly impacted is the manufacturing industry. The application of the IoT to the manufacturing industry is called the IIoT (or Industrial Internet or Industry 4.0). IIoT has a significant impact on your Manufacturing Solution and its business processes. This change is attributed to the huge volume of business intelligence or data it gathers at greater speeds and with extreme efficiency. This data can be analyzed to understand the business better and revamp it to combat the challenges and cater to future prospects.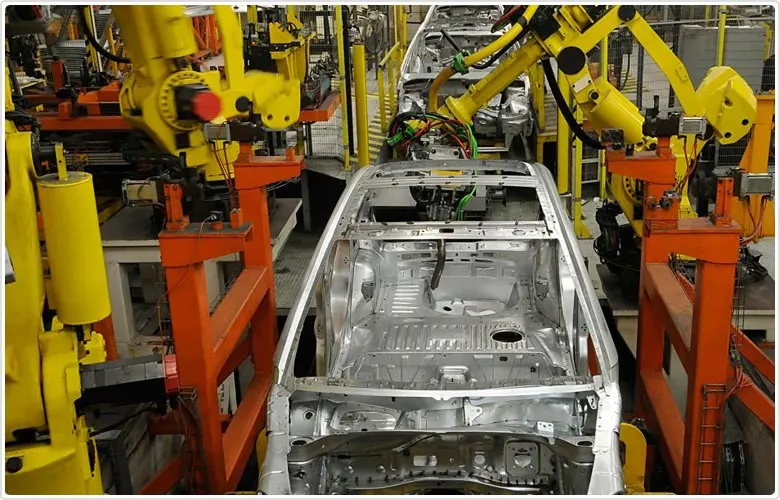 Acknowledging the importance of IOT to the manufacturing domain, manufacturers have invested heavily in IoT devices and are already seeing benefits at this early stage of the Internet of Things Life Cycle. Manufacturers utilizing IoT solutions in 2014 experienced an average 28.5% increase in revenues between 2013 and 2014, according to a TATA Consultancy Survey. A clear indication that the manufacturing industry is all set to embrace this new technology and reap its benefits. The paradigm shift is happening in the industry towards Smart Manufacturing.
What is Smart Manufacturing?
Putting it in a Nutshell, Smart Manufacturing is the use of IoT devices to improve the efficiency and productivity of manufacturing operations. Typically, this involves retrofitting sensors to manufacturing equipment that will gather real time data. This data is read by the smart Manufacturing Solution which provides analytics to make better and more informed decisions.
BI Intelligence, Business Insider's premium research service, expects the installed base of manufacturing IoT devices to swell from 237 million in 2015 to 923 million in 2020. Manufacturers are expected to spend an astonishing amount measuring to $267 billion on IoT devices by that time. The are several giants in the race of smart manufacturing, IBM, Cisco, Microsoft, General Motors, SAP, TATA Consultancy Services to name a few.
IIOT - Benefits & Barriers
There are many benefits of implementing IoT devices in factories, such as:
Predictive Analysis
Machine and factory health is of at most importance in a manufacturing industry, when they go wrong the cost implications of it are massive. Data mining techniques come to rescue here, they can be used to capture processing signals streaming from machine sensors to detect machine degradation and predict impending failures and ultimately reduce operational down time.
Operational Intelligence & Efficiency
Obtaining an integrated picture of the organization's performance considering its different locations, plants and establishments was a huge challenge, made possible now. Consolidation of all manufacturing data across individual plants and different establishments provides significant, immediate improvements in costs, safety and environmental impacts.
Demand-Driven Manufacturing model
IOT facilitates forecasting by capturing point-of-sale inventory levels and information about the popularity of certain configurations. With this valuable data, a manufacturer could switch to a more profitable "make-to-order" model instead of the forecast-driven "make-to-stock" model.
Asset Tracking
Real time, continuous visibility into location and status of fixed and moving assets within the company such as tools or stock in transit is made possible through IOT.
Cost Optimization
As IOT increases the manufacturing intelligence, customers reap the benefits in the form of improved and innovative products. Manufacturing processes are revolutionized and innovations are the direct outcome of it, so a smart manufacturing's promise of $2,000 automobile or a $200 personal computer is not far behind.
What are the Barriers in this paradigm shift?
The few challenges for manufacturers as they begin to upgrade to the IoT are threats of cyber-attack, data security and privacy concerns, high cost of implementation, inadequate infra structure, difficulty determining ROI, technical difficulty integrating the IoT into a factory, and reluctance to implement automation, which would result in job losses. A reasonable approach to handle these glitches is to pick a few products and services and add connected sensors, this would result in substantial improvement to the organization's bottom line and latter extend this enhancement to encompass the entire business.
Factories of the Future
By 2020, it is estimated that 50 billion smart devices will be in use worldwide, meaning that manufacturers will have to keep pace with the 'on demand' consumer. McKinsey estimates IOT to have an economic impact of up to $6.2 trillion by 2025.
Now GE, AT&T, Cisco Systems, Intel, IBM and the U.S. government have launched a new industry initiative called the Industrial Internet Consortium (IIC).IIC would create common standards for sharing data between machines and embedded Internet-connected devices. This is a genuine effort to provide better access to big data with improved integration of the physical and digital worlds.
The Internet of Things revolution is very much a global issue and other nations are not far behind. The German government has already launched what it calls its Industry 4.0 initiative to help the development of smarter factories which is directly proportional to its industrial performance. The British government has doubled its funding of Internet of Things technology research to over $120 million.
IOT in India
The IOT market in India is poised to reach USD 15 million by 2020, accounting for about 5% of the total global market. India expects a network of 1.9bn smart connected devices by 2023. This network of smart devices would connect power grids, vehicles, homes, entire cities and manufacturing floors, computers and mobile devices and what not.
India has always be in the forefront to adopt new development in Technology, and it is gearing to be a part of the 4th Industrial Revolution and take advantage of it at IoT India Congress 2017 which would be held on 2017 September 14-15 at Bengaluru, a Platform for empowering business outcomes using the Internet of Things.
Hans Thalbauer, senior vice president, digital supply chain and IoT, at SAP Sums it up and says, "Internet of things technology is massively changing consumers' purchasing, and how businesses manufacture goods and work with suppliers. By linking and tracking intelligent factory devices, assets and products, a new world of efficiency is on offer".
Now the question that lingers is - Are you ready to plunge in to this new wave?
Glad Agaram Software Solution helps to sail with the tide with its RFID solutions and products. Agaram provides assistance in the entire process of transition to the emerging Technology starting from conducting free-site surveys, requirement analysis, ROI illustrations and supports all the way through hardware supply, Manufacturing Solution implementation and integration.