Redefining Logistics with Enterprise Resource Planning (ERP)
Creating a supply chain network that is responsive, efficient and facilitates organizations to lower operational costs while meeting the expectations of customers can be a challenging proposition. To achieve these objectives, there is a need for organizations in the logistics sector to efficiently manage the highly intricate process of transportation and logistics. Irrespective of whether the processes involving transportation and logistics are handled at a domestic or international level, it is bound to encounter challenges. Addressing these challenges can be made easy when there is a perfect blend of expertise, technology and processes.
When organizations manage to harness the potential of this blend of expertise, technology and processes, it enables them to create a logistics solution that is integrated and allows them to bring down costs spent on freight, improve control and visibility while efficiently managing their processes and augmenting the level of customer satisfaction. Organizations can realize this perfect blend with the use of Enterprise Resource Planning (ERP) solutions.
Enterprise Resource Planning systems have emerged as a significant aspect within organizations as far as information technology is concerned. Usually, executing ERP projects can be intricate and extensive and require the involvement of several external resources and diverse personnel. The resources and people work in tandem for a specific period within which the organization realizes the preset objectives for implementing the ERP project.
Agaram InfoTech, an industry leader in extending ERP solutions, played an intrinsic part in enhancing the operational processes for one of our clients South African Inland Logistics (SAIL), South Africa who availed our ERP solution. Using the integrated ERP solution offered by us, SAIL was able to improve several aspects in their operational procedures. ERP solution that we extended comprised of diverse modules, with each module having an impact on the operational process of SAIL. Each of the modules offered within our ERP solutions enabled SAIL to streamline their processes and achieve superior customer satisfaction levels. The modules presented within our ERP solutions included: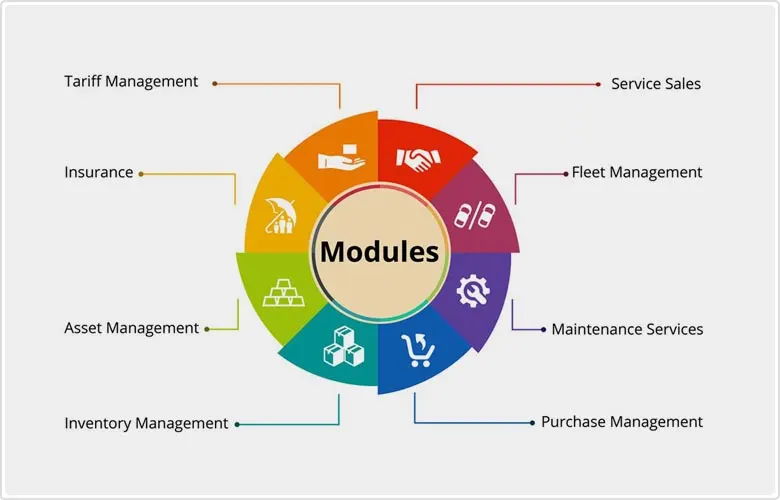 Tariff Management
Tariff management is a challenging task. Our ERP solutions offered SAIL with multiple options and several parameters that ensured calculation for the tariff is executed in an effective manner.
Service Sales
Our ERP solutions help SAIL to streamline the service sales process and achieve operational efficiency.
Fleet Management
The fleet management module offered by Agaram's ERP solution enabled SAIL to bring down their overhead expenditures and un-anticipated break-fix situations. It also reduced the down time that arose due to mismanagement of equipment and fleet vehicles.
Maintenance Services
Efficient and timely maintenance of the fleet vehicles is the key to optimizing the delivery process. Our maintenance module enabled SAIL to keep track of vehicle performance and schedule periodic maintenance as required.
Purchase Management
This module of our ERP solution facilitates SAIL to efficiently track the process of purchase right from creating the requirement for supplies, placing purchase orders, documentation, streamlining the process of receiving the supplies and linking with other modules.
Inventory Management
Inventory management module presented by our ERP solution enabled SAIL to know about the inventory they possessed and track their current location. The inventory module is also integrated with back-office systems for higher optimization.
Asset Management
The asset management module within our ERP solution allowed SAIL to effectively plan, maintain and manage all their assets. The module also allows SAIL to maintain their assets with in-built analytics and predictive maintenance.
Insurance
This module provided by our ERP solution helped SAIL to keep a track of their insurance requirements. This included insurance of vehicles and assets.
Receipts and Payments
Receipts and payment process is streamlined and simplified by the receipt and payment module within the ERP solution offered by Agaram. This module helped SAIL to keep track of their receipts from sales and helped them in following up for payments from customers in time.
Reports
The report module facilitated by our ERP solution enabled SAIL to generate a wide array of reports which included; sales report, inventory report, fleet maintenance report, financial reports, modvat report etc.
Dashboard
The customized dashboard module offered by our ERP solution presents SAIL with management information board that outlines the key performance indicators and also enables them in work load balancing
Thus, with the help of our ERP solution, SAIL was able to optimize their business process and achieve a superior level of operational efficiency.