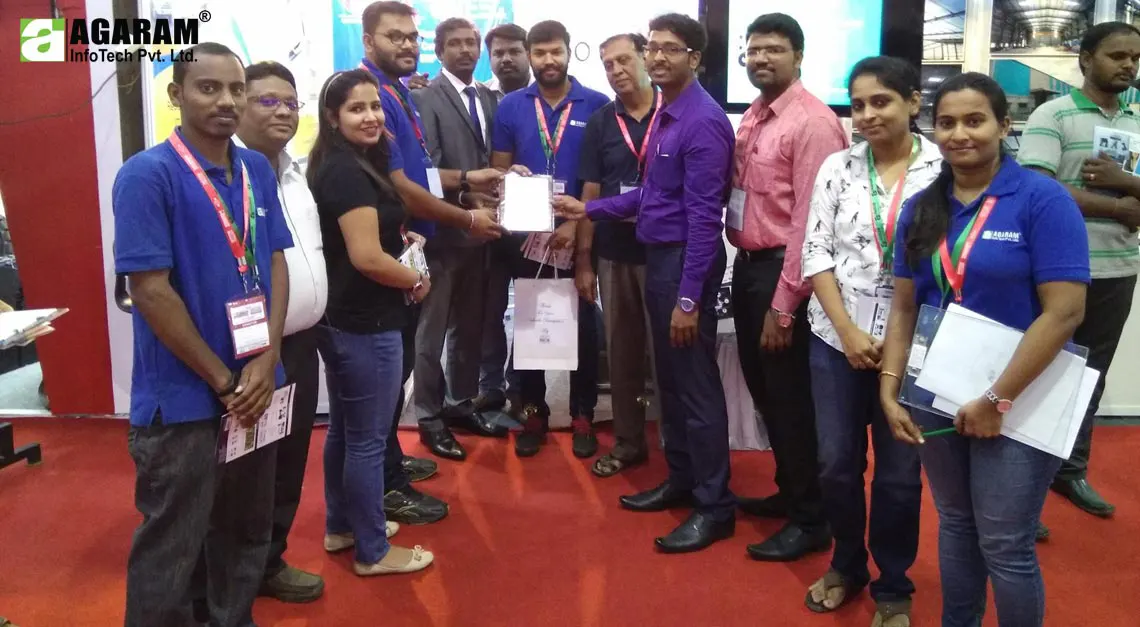 LOGMAT was the perfect platform that brought together Logistics & Manufacturing companies and solution providers who offer the best suitable software solution for their business. LOGMAT was organized by SMART EXPOS & FAIRS (INDIA) PVT.LTD., with outstanding expertise and meticulous planning bringing together the solution seekers and providers to Discuss and Define the Future of the Industry. This was a great opportunity for us where we showcased to the industry a glimpse of our Vision for their future.
Our exhibit consisted of an array of our Software Products and Services adding value to the operations of its Clients namely AgES- Logistics, a complete Logistics and Transportation Software; AgES-Manufacturing, for effective Streamlined Manufacturing operations; AgES-HRMS, a value added service for the most valuable Asset of any organization, the Human Resources. Agaram being a well-established name in the Hardware Supplies and services gave a glimpse of its tried and tested hardware solutions - Automatic Identification and Data Capture (AIDC) Tools, IT Infrastructure equipment like PCS, UPS, Printers, etc. Our clientele had a glimpse of our efficient Office Automation Tools & Services like Biometric Solutions, Antivirus, LEC, Video Wall, etc.
LOGMAT was indeed a great learning experience for Agaram. We could get a clear insight into the requirements and needs of our clients. A few snippets from the discussion that our representatives had with the inquisitive audience :
Enquirer : We are logistics providers looking for efficient WMS (Warehouse management system), do you offer it?
Agaram : Yes Sir, We offer WMS. Also to ensure effective warehouse management we offer RFID solutions also which helps you track the inventory.
Enquirer : Can you elaborate on the RFID part of it?
Agaram : RFID Inventory tracking provides the means to track the location of item, crate, pallet or conveyor level and to maintain count of inventory. We achieve this through a RFID tag and a reading device. It is very efficient and a fool-proof way to maintain Inventory
Enquirer : We do not need HRMS solution since our concern is not a huge one, but payroll processing and attendance tracking of even a smaller number employees is error prone and cumbersome. Do you offer any help in this area?
Agaram : We offer Payroll processing service where we charge based on the No. of employees processed. Another very useful instrument is our Bio-metric attendance tracking device which can be integrated into your existing system. It tracks the attendance of the employees with absolute accuracy.
Face to face discussions with real people in business brought to light the immediate requirements of this industry and Agaram was pleased to be able to suggest them the right technology and solutions. Indeed a very satisfying experience, as rightly said by Bill Gates, "The Best Teacher is very Interactive", this interactive platform was a great learning experience and a wonderful stage to Project our Skills, Solutions and Services.